Indicators of scotopic sensitivity syndrome can be similar to those of Dyslexia, which can lead to a misdiagnosis. Scotopic sensitivity syndrome can be helped by using coloured overlays during reading, colour tinted glasses or changing the background colour on electronic devices.
Visual stress (sometimes called 'Meares-Irlen syndrome' or 'scotopic sensitivity syndrome') is the experience of unpleasant visual symptoms when reading, especially for prolonged periods. Symptoms include illusions of shape, movement and colour in the text, distortions of the print, loss of print clarity, and general visual irritation. Visual stress can also cause sore eyes, headaches, frequent loss of place when reading, and impaired comprehension.
Visual stress is caused by the striped effect of black writing on white paper which causes over stimulation and excitation of the visual cortex .
If a child or young person is complaining of difficulty reading, having headaches when they read or suggest printed text seems to move, then they could benefit from a scotopic sensitivity syndrome assessment.
How is scotopic sensitivity syndrome assessed?
Scotopic sensitivity syndrome is a self-reported assessment through a structured conversation with the child or young person whilst carrying out a number of reading activities using different coloured overlays. The level of discomfort and difficulty experienced during reading activities is recorded throughout the assessment.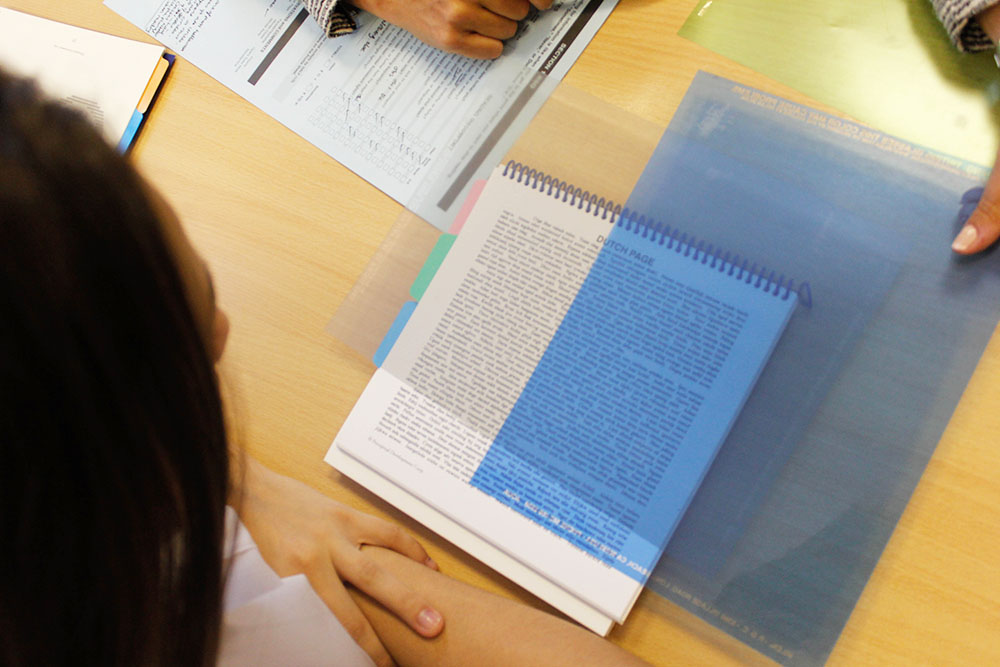 What happens after an assessment?
If a child or young person has scotopic sensitivity syndrome then our psychologists will discuss various options for coloured overlays or tinted lenses in the appropriate colour to help. Through wearing tinted lenses or using an overlay the individual should notice a positive difference in their reading activities.
What interventions do we support?
We value ourselves on providing a complete service and if you would like further input following an assessment then we would be happy to support a literacy intervention if this is requested. Usually, with scotopic sensitivity syndrome, the use of tinted lenses or coloured overlays negates the need for intensive intervention following an assessment.
Coloured overlays and coloured glasses can increase the speed of reading, although with conventional text the improvement may only be apparent after 10 minutes of reading, when the child would begin to tire were an overlay not used. If the text is closely spaced, the benefit is more immediate.
Scotopic sensitivity syndrome causes difficulty with reading printed text and can be helped through the use of tinted lenses or coloured overlays. To book a scotopic sensitivity syndrome assessment or to find out more please contact us now to talk to member of our team.