CPD events
Our continuous professional / personal development (CPD) events are made up of courses, training and workshops.
We are passionate about continuous professional development, as an an independently owned and controlled not-for-profit social enterprise we believe providing CPD is essential to achieving our mission of maximising the wellbeing and potential of children and young people.
We provide clinical and educational psychology courses, workshops and training which are flexible, competitively priced and dedicated to maximising social impact.
Our specialists provide bespoke training and continuous professional development solutions to suit all budgets and requirements. Our team provide a broad range of events, training and workshops to share specialist knowledge. To find out more what we can do for your organisation please see our training packages.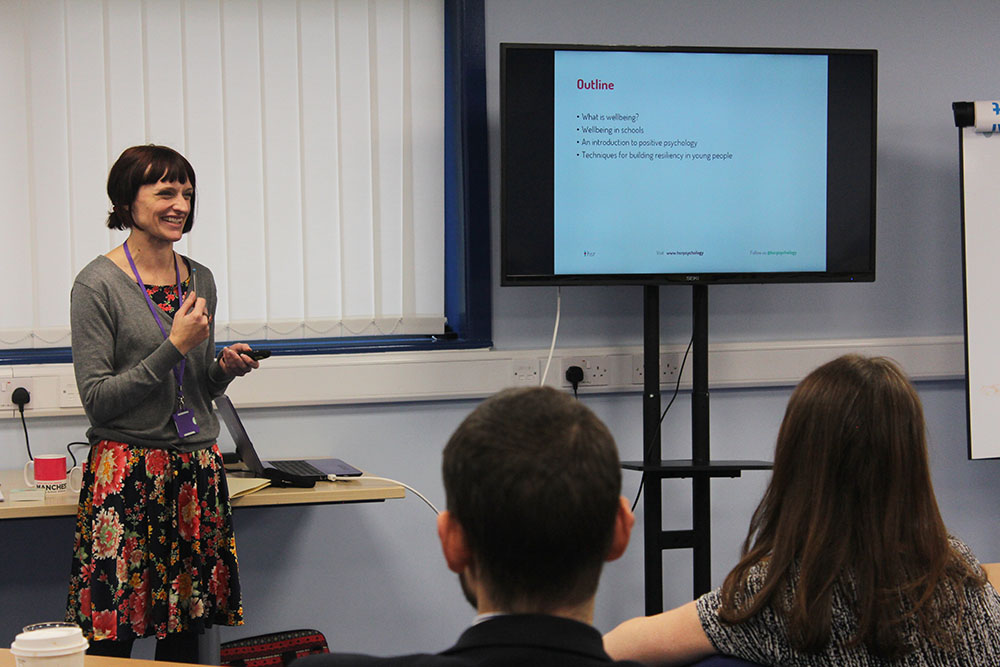 Who can attend our CPD events?
Our CPD events are available to all, including:
Education providers
Parents and carers
Young people
School governors
Local authorities
Health professionals
Charities
Case managers
Solicitors
Parent partnerships
If you would like to attend one of our CPD events but are not listed above then do not worry, you will be warmly welcomed. Please contact us to learn more about our upcoming events, training and workshops, or to commission our specialists.
Why is CPD important?
We are focused on maximising the wellbeing and potential of children and young people to support them to feel happy, safe, and ready to cope with life's challenges, we can achieve this through empowering the adults supporting them.
We believe to truly be child-centred we must be responsive to the needs of the individual, parents, carers, education settings and communities. We offer a bespoke training service; flexible in its delivery and continuous professional development opportunities.
Who provides our CPD events?
All members of our team are involved in our CPD events. Our specialist psychologists are passionate about increasing the knowledge and understanding of professionals and parents through providing accessible and cost effective events, training and workshops on interventions, skills and techniques used to support children and young people. We provide support and strategies to enhance the outcomes of children and young people. Our psychologists listen and value the views of children, young people, parents, and professionals in order to provide relevant and bespoke CPD opportunities.
What are the benefits of our courses, training and workshops?
Our courses, training and workshops are an interactive approach to learning and putting knowledge into action. They are a place to share knowledge, skills and strategies to facilitate preventative work and interventions. Courses, training and workshops delivered by our specialist psychologists also equip young people directly with the skills needed to fulfil their potential as well as those supporting them. Our courses, training and workshops are a brilliant way to learn more, share good practice and meet others with shared interests.
What type of CPD events do you hold?
Our CPD events are usually designed around a core topic and controlled in size in order to be a perfect opportunity to learn more and meet new people. Sharing good practice raises awareness and understanding in many areas. Our CPD events are designed and carried out by our psychologists, and at times involve professionals from other fields. Our CPD events can be specifically for training, networking and promoting services.
Our vision is for all children and young people to maximise their potential by having needs met at home, school and in the community which can be achieved through accessible courses, training and workshop opportunities. We provide clinical, counselling and educational psychology CPD events in relation to children and young people aged 0-25. Our CPD events support you in staying up-to-date with changes in areas of psychology, special educational needs and disabilities (SEND). Check when our next CPD events are taking place to book your place now. Please contact us now to talk to a member of our team about our CPD events.